Public relations pros have been using the PESO Model for years by integrating Paid, Earned, Shared, and Owned media strategies into a single campaign, to better establish authority, amplify reach, and improve results. Can PESO do the same for demand generation?
Gini Dietrich originally introduced the PESO Model in her 2014 book, Spin Sucks. Her approach showed how an integrated campaign combining four types of media channels creates a combined effect greater than the sum of its parts: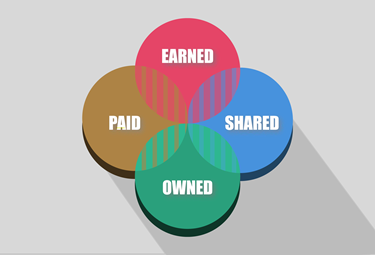 * Paid Media are marketing efforts that involve a paid placement. Examples in a demand generation context include social media advertising, display advertising, or sponsored content.
* Earned Media generates engagement through activities that are not paid placements. Examples include review sites, media coverage, or social media mentions.
* Shared Media is content that shared across third party platforms, the most obvious example being posts to social media platforms such as LinkedIn or Facebook.
* Finally, Owned Media is any online property or content owned and controlled by a brand. Examples include ebooks, videos, case studies, recorded Webinars, and blog posts.
Most demand marketers routinely deploy all four media types, but more often as individual programs or deliverables, less so as part of an integrated strategy. Adopting a PESO model in demand generation planning not only helps identify opportunities to expand reach and leverage content investment, but also creates a cascade effect whereby brands build greater trust and credibility, and drive higher engagement.
The PESO model can also help break down internal silos, where, for example, PR, Web, and demand teams work together towards a common objective and on a common theme. When planning an integrated campaign, marketers can use the PESO model as a checklist to ensure that new content and campaigns are leveraged across all possible channels and not just the usual suspects. PESO is an opportunity to think creatively and test channels outside the tried and true (e.g. Webinar + email campaign + LinkedIn ad).
---
The #PESO Model & Your Demand Generation Strategy
Click To Tweet

---
Here are some more specific tips for integrating the PESO model into your demand generation strategy:
* For every long-form content asset (ebook, Webinar, white paper), create shorter versions that are more easily shared on social media and can serve as "teasers" for the gated content. Webinars become a series of video clips. A white paper can be a short blog post.
* Leverage relationships with influencers on social media. Provide employees with the means and motivation to share corporate content. (Employee posts can have more credibility – and reach – than do posts on the same topic from your corporate account.) Deploy a social selling program that empowers your sales team to drive connections with key decision-makers.
* Look for opportunities to create owned media that builds credibility and thought leadership. Content that is information of value, and not just a list of reasons to buy your product, is the type of content that lends itself more to multiple channels. Consider an industry survey or study, perhaps co-authored with a research or analyst firm. Or use anonymized user data to provide useful industry benchmarks (like the security vendor that publishes a quarterly "threat report.")
* Plan for earned media opportunities that can amplify a campaign's reach and message. Guest blog in an industry publication. Schedule speaking opportunities at industry events that time with the launch of a campaign or content asset.
Each of these ideas has exponentially more impact when deployed collectively as part of a cohesive, integrated campaign. In an era where the buyer journey is more anonymous, more dynamic, and relies more than ever on social proof and the opinions of peers, marketers can no longer rely on advertising (paid media) alone. The PESO model provides a convenient, and time-tested, framework for expanding the notion of what an "integrated campaign" really means.
A big thank-you to Spear's SEO & Social Media maestro, Robin Kavanagh, for her help with this article.
The post The PESO Model & Your Demand Generation Strategy appeared first on The Point.